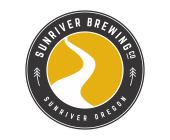 BRAND:
The Sunriver Brewing Company originally began in The Village at Sunriver as a family-owned brewpub that served great food and brewed its own beer. Since its launch on July 4, 2012, demand for our beer has increased and we've continued to expand to meet that demand.
Our awesome craft beer is rivaled only by our outrageous service which extends from our pubs to our distributor partners and outlets that sell our brew. The folks who work at Sunriver Brewing Company are about the best you can find anywhere on the planet. We care about what we do, we care about the people in our community and we care about each other.
We are mindful to being stewards of our environment and we enjoy supporting local charitable organizations. In short, we put a lot of energy and time into trying to do the right thing.