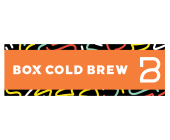 BRAND:
Box Cold Brew was founded by Lucas Cravero, who got his start in the craft beer industry on the West Coast. In 2016 he moved back to Miami with the inspiration of bringing what he loved about craft beer to the coffee and tea industry.
The concept popped-up in a shipping container in Wynwood, that transformed into an open-air bar and fun outdoor patio.
We soon became a go-to neighborhood hangout, known for crazy handcrafted concoctions and seriously good cold brew.