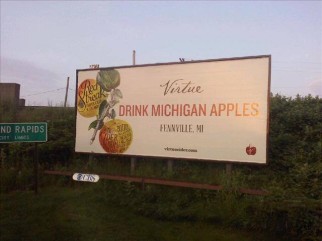 You may have been hearing a lil' bit of buzz around town about the newest kid on the cider block, Virtue Cider.
Virtue is the craft cider venture, launched in June 2011 by Gregory Hall, former Brewmaster at Goose Island Brewing Company, and co-founder Stephen Schmakel. Virtue's mission is to make authentic English, French and Spanish style ciders using the heirloom apple varieties sourced from local farmers. 
With the cider craze in Portland continually increasing, many are vying for a piece of the (apple) pie. At Maletis, we believe in only choosing the finest quality ciders to introduce into the growing market, and we have found the holy grail of "old-world farmhouse" style ciders with Virtue Cider.
Good, Clean, and Fair are the three adjectives that the Michigan-based craft cider company, Virtue Cider, lives and brews by. They place a heavy emphasis on choosing only the finest ingredients and creating a "branch-to-bottle" enterprise. With Virtue Cider's prominence on supporting local business and the dedication they put into producing delicious high-quality ciders, Virtue Ciders are perfect for the environmentally-conscious Portland market and the sustainable lifestyle many Portlanders live. 
Here's a tasting of what distinct Virtue Ciders will be heading your way on-draft:
Red Streak: a true English-style draft cider. A hazy vermilion hue with the scent of ripe apples and a touch of oak. Crisp, tart finish.
The Ledbury: an English-style medium cider. Not too dry, not too sweet, right in the middle. A bit of farminess to the ripe apple nose.
Sidra de Nava: a Spanish-style summer cider. Lemony nose, dry finish, bracingly tart. A happy cross between cider, dry white wine and fresh squeezed lemonade.
While you wait for these cider varietals to come to your nearest fine-drinking establishment, remember, patience is a "virtue."
To learn more about Virtue Ciders please visit their website: http://virtuecider.com and keep an eye on our Facebook page where we'll continually update you on where Virtue Cider is tapped.